[At the end, I've included UPDATES from another great MyDD diary on the Obama campaign's pathetic error.]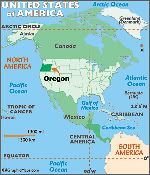 Senator Obama is at it again, taking credit for things someone else is doing and trying to craft an image of himself as an innovator and a leader. The only problem is that he is getting caught with his pants down making an ass of himself for all to see.
As almost everyone knows, Hillary crafted an Oregon Compact that specified how she would promote issues specific to Oregon to help the people of the state. And as usual Senator Obama was forced to come up with his own plan for Oregon. But he made just a slight mistake. A 1,700-mile mistake, you might say. Because in his CHANGE OREGON CAN BELIEVE IN plan he promised:
Barack Obama will reinvigorate the drinking water standards that have been weakened under the Bush administration and update them to address new threats. He will help communities by restoring better federal financing for water and wastewater treatment infrastructure, and he will continue his leadership in protecting national treasures like the Great Lakes from threats such as industrial pollution, water diversion, and invasive species. Obama will establish policies to help high-growth regions with the challenges of managing their water supplies.
Of course, this glaring mistake didn't phase Senator Obama. I guess he figures that a bunch a hicks like us wouldn't know that the Great Lakes are in the northern Midwest portion of our country, not in the Pacific Northwest. And when confronted by this obvious whopper, the elite Obama campaign answered in the manner that we have come to expect from them. They said something equally as stupid:

Democratic rivals vie for Oregon votes
Obama spokesman Nick Shapiro said his campaign wasn't trying to match Clinton's Oregon compact. "The last thing Oregon needs is another plan," he said, arguing that the important thing is that Obama would be more successful in breaking through Washington gridlock to get things done.
A snappy comeback don't you think? But if what Shapiro said is true then WHY did Obama feel the need to produce a plan to begin with?
It sounds to me like he is saying that since Obama screwed up basic geography plans are irrelevant anyway. And what are we to make of Shapiro's claim that Obama would be more successful in breaking through Washington gridlock to get things done? Does he cite any evidence or experience to back up this claim?
And yes, dear reader, you have caught me. Because the question is rhetorical. We ALL know that Obama has ZERO experience doing what his campaign tries to convince people his is best qualified to do. None. Zip. Nada. Not a frickin bit of experience doing what he and his campaign claim is his biggest selling point. I guess that is where the "hope" comes in. Because you sure as hell can't trust that Obama is what he says he is. It's all smoke and mirrors, deceptions and lies.
Despite the obvious arrogance when confronted with mistakes, what are we to make of Obama's great plan to reinvigorate Oregon? Hillary's Oregon spokesperson, Julie Edwards gives it a big thumbs down.
"Ninety percent of the document is not Oregon specific, Edwards said. "What remains is a rehash of what was in the Oregon Compact released by Sen. Clinton last week."
But never to be outdone or without a righteous excuse when caught looking stupid, Obama's campaign responded in yet another foolish way. They attempted to make Obama's nonspecific plan seem like it is what Oregon actually needs.
"Oregonians appreciate the fact that issues that matter to them matter to other people all across the country," Shapiro said.
I've seen some hoodwinking in my day but trying to cover up a lack of specificity with a praise for generality is without a doubt the worst I have seen. Ever. It is the political equivalent of "The dog ate my homework."
Yes, I am sure that Oregonians go to bed at night feeling all safe and protected because the Great Lakes are finally getting some attention. Their jobs feel much more secure, their health care accessibility is widened and all kinds of nice warm fuzzy things. And all because Senator Obama reminded them that they are just like the people in Illinois. I'm sure that goes over real well.
Don't know about the rest of you but I fully expect that Obama's plan for Kentucky will somehow confuse the Daniel Boone Natural Forest with the Black Forest. And I can't wait to hear the WORMs spin that one.
UPDATE: bobbank points out in his excellent diary Change Oregon Can Believe In? that Obama isn't just confused which state he is trying to help, he also neglects to mention that one of the centerpieces to his Energy Plan for Oregon is something that Oregon already passed into law last year.
Powering Oregon's Future SB 838
In it's 2007 session, the Oregon Legislature passed the Oregon Renewable Energy Act ( SB 838 ) and the bill was signed into law on June 6th, 2007.

The Act establishes a Renewable Energy Standard that requires Oregon's largest utilities to acquire 25% of their electricity from new, homegrown renewable energy sources by 2025. Smaller Oregon utilities must meet smaller renewable energy targets of 5% or 10% of their electricity by 2025.
Compare this with Obama's CHANGE OREGON CAN BELIEVE IN where he proposes a plan for Oregon that they have already have.
That's Not Leadership Oregon Can Believe In.
Barack Obama will establish a 25 percent federal Renewable Portfolio Standard (RPS) to require that 25 percent of electricity consumed in the U.S. is derived from clean, sustainable energy sources, like solar, wind and geothermal by 2025. This requirement will spur significant private sector investment in renewable sources of energy and create thousands of new American jobs, especially in rural areas.
This is kinda like the leadership it took for Obama to go to Detroit and tell the Automotive Execs that they were going to have to achieve higher fuel efficiency standards. And it just so happened that Obama used the same efficiency standards that were being adopted by the Senate at the time. Yep, bold leadership.
And if all of this hasn't demonstrated how completely out of touch Obama is just take a look at what his plan is for helping Oregon's Veterans.
Care for America's Veterans: There are more than 380,000 veterans in Oregon, and the Department of Veterans Affairs that was built to care for World War II veterans is not ready to handle the influx of veterans from Iraq and Afghanistan. As a member of the Senate Committee on Veterans' Affairs, Barack Obama has fought to end benefit disparities, bring homeless veterans in off the streets, strengthen mental health care, add billions of dollars in additional Department of Veterans Affairs funding, and reform a system that often places barriers between veterans and the benefits they have earned. As president, Obama will ensure we honor the sacred trust to care for Pennsylvania's 1.1 million veterans.
Uh… Earth to the Obama Campaign. I think you need a compass. Or a brain.
---
Possibly related posts: (automatically generated)
::::::::::::
Visit my blog for more stories.