Where in the hell is the media? Did any of you MSMers watch Greta's Fox News show on Friday night, or watch these videos? Why hasn't there been a single story on this remarkable two-part interview? Did you read Greta's blog post after the show? And why did it take a blogger to write the best headline? "John M Murtagh: Hi, I'm one of the people that the Weather Underground tried to kill."
In part two, Mr. Murtagh articulates Larry Johnson's investigative findings about Barack Obama's eight years of employment by William Ayers: "Why is Obama Hiding the Truth About William Ayers? Follow the Money."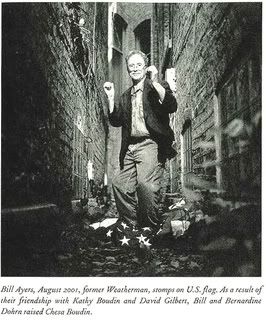 But, since Van Susteran's breaking news interview — and John Murtagh's two op-eds (here and here) last week — there hasn't been even one story, according to my regular searches of Google News, except for some blog posts. I want to know why. [Oh, that image? That's from Larry Johnson's story, "Stomp On This," showing Barack's good buddy William Ayers stomping on the American flag.]
I also want to know why Obama, who worked for Ayers for eight years as well as serving on boards with him and permitting Ayers to raise campaign funds and contribute — can limply excuse Ayers' behavior because he, Obama, was eight years old when Ayers set his bombs but that it's alright that — but for the grace of God — a nine-year-old boy and his family weren't blown to bits by Ayers' and Dohrn's bomb.
I want to know how Obama can excuse his long associate's statement to the New York Times on September 11, 2001 that "I don't regret setting bombs. I feel we didn't do enough."
A blogger wryly noted the cruel irony of Ayers' remarks on 9/11:
Perhaps if you had done more, William Ayers, you might have kept this person [John Murtagh] from writing [his op-eds last week]. Do you regret that?
Right on, William Ayers and Bernardine Dorhn. IF ONLY YOUR BOMB HAD WORKED BETTER, John Murtagh wouldn't have been ALIVE to write those op-eds or appear on Greta's show.
BACKGROUND:
On Friday night, Greta Van Susteran conducted a superb, two-part interview of John Murtagh, an attorney and city councilman who was nine years old when his family was nearly murdered after Barack Obama's pals William Ayers and Bernardine Dohrn bombed his family's home while they were all asleep.
Murtagh's father was a New York State Supreme Court justice who was presiding over the trial of the so-called "'Panther 21′, members of the Black Panther Party indicted in a plot to bomb New York landmarks and department stores." The Panther 21 were "allies" of the Weather Underground so, apparently, a nine-year-old son of the judge was justifiable "collateral damage" in their revolutionary struggle.
HERE ARE MORE IRONIC observations from the blogger at RedState:
The piece really should be read in its entirety, but let me isolate two more sections. First:

Though no one was ever caught or tried for the attempt on my family's life, there was never any doubt who was behind it. Only a few weeks after the attack, the New York contingent of the Weathermen blew themselves up making more bombs in a Greenwich Village townhouse. The same cell had bombed my house, writes Ron Jacobs in The Way the Wind Blew: A History of the Weather Underground. And in late November that year, a letter to the Associated Press signed by Bernardine Dohrn, Ayers's wife, promised more bombings.

[snip – but read it, too]

Though never a supporter of Obama, I admired him for a time for his ability to engage our imaginations, and especially for his ability to inspire the young once again to embrace the political system. Yet his myopia in the last few months has cast a new light on his "politics of change." Nobody should hold the junior senator from Illinois responsible for his friends' and supporters' violent terrorist acts. But it is fair to hold him responsible for a startling lack of judgment in his choice of mentors, associates, and friends, and for showing a callous disregard for the lives they damaged and the hatred they have demonstrated for this country. It is fair, too, to ask what those choices say about Obama's own beliefs, his philosophy, and the direction he would take our nation.

The snipped portion relates how Mr. Murtagh takes personally the revelation that Ayers regrets not burning him and his family to death; said regret is no less chilling for being essentially divorced from any sort of personal animus. If you wonder why we still find the Weathermen outrageous, you should consider that it's in large part due to the fact that (I say this not as a mental health care professional, mind you) the most public ones were and are sociopaths*. We have enough problems with hardline Islamist fantasy ideologists to be comfortable with people being comfortable with the domestic versions.

The other bit?

At the conclusion of his 2001 Times interview, Ayers said of his upbringing and subsequent radicalization: "I was a child of privilege and I woke up to a world on fire."

Funny thing, Bill: one night, so did I.

John, I frankly don't think that he cares. On the bright side, Senator Obama will, eventually. All you need to do is get his Oregon numbers down three or four points and he'll disavow this guy in nothing flat.
SEE MY FRIDAY NIGHT STORY — "[Action Update] Victim of Ayers and Dohrn Appears on National Television, Describes His Entire Family's Near Murder" — for more detail and background.