Update below the fold.
In the midst of commemorations for 9/11/01, a day on which we remembered those who were killed, and reaffirmed the commitment to keep our nation safe, the Taliban was busy in Afghanistan. Our officials were concerned about a 9/11 attack – but we thought it would be on our shores, in an area already hit.
And in a way, it was. The Taliban attacked our soldiers at a military base:
The massive Taliban truck bomb that exploded outside an American military base in a restive eastern district injured nearly 80 U.S. troops and killed five Afghans, Western and Afghan officials said Sunday.

The Taliban claimed responsibility for the attack, which took place Saturday evening in the Sayedabad district of Wardak province. That is the same district where insurgents last month shot down a U.S. Chinook helicopter, killing 30 American troops, the majority of them Navy SEALs, including some from the unit responsible for killing Osama bin Laden.

The Chinook crash, which remains under investigation, was the worst single loss of American military lives in the nearly decade-long war.

Although no Americans died in Saturday's blast, it appeared to be one of the biggest casualty counts in an insurgent strike on a Western military installation. The bombing also carried symbolic weight, coming on the eve of the 10th anniversary of the Sept. 11 attacks. [snip]
Thank heavens none of our soldiers were killed, but for almost 80 of them to have been injured, is significant enough. That said, it is very sad that others did die in this attack on our base. And, thank heavens that the base was so fortified that more damage was not done to our troops or the base.
The article continues:

[snip] Hours after the attack, a solemn ceremony was held at the U.S. Embassy in Kabul on Sunday morning to remember the victims of Sept. 11. Before an audience of several hundred embassy employees, military officials and Afghan dignitaries, the American flag was lowered to half-staff and a lone bugle sounded taps. [snip] (Click here to read the rest.)
It was that very embassy in Kabul that the Taliban attacked on Monday. Though the New York Times seems loathe to cloak the attackers with that moniker:
Insurgents launched a complex assault against the American Embassy and the nearby NATO headquarters on Tuesday, pelting the heavily guarded compounds with rockets in an attack that raised new questions about the security of Afghanistan's capital and the Westerners working there.

At least 10 explosions — apparently from rockets launched by militants — and waves of automatic weapons fire were reported amid the drone of sirens and English-language warnings telling Americans inside the embassy to take cover.

[…]

It was unclear precisely how many assailants were behind the assault or whether they were attacking from a single or multiple locations. The attackers were holed up on several floors of a tall, partly built concrete building that offered a bird's-eye view of the secured diplomatic and military compounds about a half mile away. Flashes from gun barrels could be seen as the militants fired from their perch. Afghan security forces returned fire from the ground, sending puffs of concrete dust into the air as bullets slapped the building. [snip]
So far, no Americans have been killed, but the Taliban is taking credit for this assault, which the Times has not yet verified, hence their hesitancy to label it as such. Other news organizations are claiming this is indeed the continuing actions of the Taliban insurgents.
Regardless who is responsible, these attacks, the third since June, cannot stand:
Secretary of State Hillary Rodham Clinton says the U.S. will do everything it can to combat those who committed a "cowardly attack" on the U.S. Embassy and other buildings in Kabul.

Clinton said the U.S. was moving to secure the area in Afghanistan's capital and "ensure that those who perpetrated this attack are dealt with."
I would certainly hope so. For live updates of the situation in Kabul, click here or here.
I suppose this shouldn't be a big surprise, considering what happened outside our embassy in England on 9/11: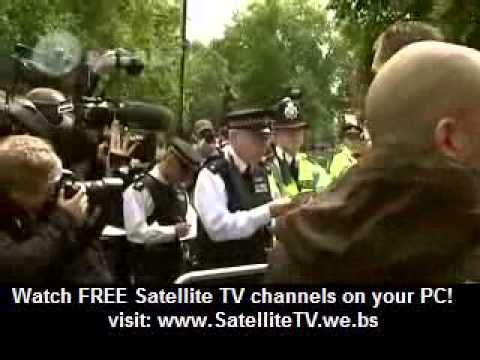 I am pretty sure they were chanting, "Burn, Burn, USA." We are mourning the loss of life and liberty in our country, and on that very day, this group is marching against us in England. Wow. It is all a matter of degrees.
Meanwhile, rioters attacked the Israeli Embassy in Cairo, Egypt over the weekend. Yikes. This is not good. Especially since these rioters then turned on some of those who were reporting this attack, notably, CNN:
An angry crowd lingering near the Israeli embassy in Cairo after an attack on the building a day earlier turned on journalists reporting the incident Saturday, accusing at least one of being an Israeli spy.

As a CNN crew filmed the embassy from across the street, another crew from American public television — led by Egyptian television producer Dina Amer — approached the building.

[…]

"There was this older lady who decided to follow me and rally people against me," Amer recalled. "She said 'you're a spy working with the Americans.' Then they swarmed me and I was a target."

A growing crowd surrounded Amer and her colleagues, as they tried to leave the scene. Mohamed Fadel Fahmy, a producer working for CNN, rushed to help escort Amer through the angry crowd. But suddenly the two reporters were pinned against the railing of an overpass by young men who were accusing Amer of being an Israeli spy.

Yelling "I'm Egyptian," Fahmy managed to pull Amer another 10 meters down the road, until the pressure from the mob overwhelmed the pair. Amer screamed as she and Fahmy were knocked to the ground and the crowd started to trample them.

[…]

"I was thinking, how powerless I was because there was no police to save us," Fahmy said. "I was worried that they were going to rape her."

[…]
Amer had few words to describe the terrifying ordeal. "They were animals," she said.
I would say that sums it up. But the CNN reporter and crew were not the only ones:
[snip]

Other Egyptian journalists told CNN they were also attacked Saturday while trying to report near the Israeli embassy.

Ahmed Aleiba, a correspondent with Egyptian state television, said he was pursued by civilians and soldiers. (Click here to read the rest.)
Holy cow, that must have been terrifying, especially for Amer. I cannot help but think of Lara Logan and her ordeal as she tried to report on the uprising in February. This is all just disturbing as hell, especially now that the soldiers are joining in with the civilians.
I hope and pray that those inside these embassies in both Afghanistan and Egypt remain safe, but that those who are trying to report on these attacks do, as well. These are uneasy days, to be sure, and highlight that the lessons of 9/11 cannot be forgotten. Uneasy days are ahead, no doubt…
UPDATE: My buddy, Nunly, provided the link to this story, which is disturbing in light of the recent attacks: U.S. Backs Move To Let Taliban Open Headquarters In Qatar In The Hope Of Ending War In Afghanistan.
Draw your own conclusions.