Sadly, so it would appear. You may recall a story from back in February of this year regarding two ICE agents attacked in a brutal assault down in Mexico. One agent was injured, the other, Jaime Zapata, was killed. Now it appears that Agent Zapato was killed as a result of a weapon from the ill-conceived, stupid, obscene program, "Fast and Furious."
Why it has taken so long for this to come out is a question the Administration is facing from Congress members, particularly Rep. Darrell Issa, and Senator Chuck Grassley, as The Daily Caller reports:
[snip] The two top Republicans wrote to Holder on Tuesday criticizing what they said was the Department of Justice's late and lacking response to Grassley's March 2011 request for details about the murder of Immigration and Customs Enforcement officer Jaime Zapata. "Not only was the response more than six months late, it completely failed to answer the key questions," Issa and Grassley wrote.

Issa and Grassley then detail how the DOJ's severely late response is still rife with inconsistencies. Zapata was murdered in Mexico on February 15, 2011. At least one firearm involved in Zapata's murder was traced back to Otilio Osorio, his brother, Ranferi Osorio, and their neighbor, Kelvin Morrison. The DOJ arrested the three, and in a March 1, 2011 press release announcing the arrest, revealed that the Bureau of Alcohol, Tobacco, Firearms and Explosives had been investigating since early in November 2010.

Otilio Osorio made the weapons purchase, which included a gun linked to Zapata's murder, on October 10, 2010. On the same March 1, 2011 press release announcing the three men's arrests, the DOJ said it was unaware of the weapons purchase.

"According to ATF documents, however, the agency had reason to believe as early as September 17, 2010, that Otilio's brother and co-habitant Ranferi Osorio and their next-door neighbor Kelvin Morrison were straw purchasers," Issa and Grassley wrote. "Yet the ATF apparently made no effort to contact Ranferi Osorio or Kelvin Morrison and inquire about how their weapons came to be trafficked to Mexico within two weeks of their purchase."
Every step of the way, it seems this program, and its oversight, have been fraught with mismanagement. Whether this is willful duplicity, sheer stupidity, or both, it is evident that the left hand hadn't a clue what the right hand was doing. As a result, we have lost two federal agents, and many more Mexicans have died.
And it gets worse. Apparently, the ATF had the chance to arrest these men, but failed to do so. As to the murder of Special Agent Jame Zapato, Issa and Grassley made the following claim:
[snip] Issa and Grassley add that they have documents they say indicate the ATF didn't write a "Report of Investigation" about the November 9, 2010 weapons transfer "until over three months later, on February 25, 2011." That day is, Issa and Grassley point out, "the same day ATF received the report tracing the Zapata murder weapon back to the purchase by Otilio Osorio." [snip] (Click here to read the rest.)
This just makes me ill. The sheer incompetence of the DOJ under Holder and Obama is staggering. No wonder yet another Congressperson, Rep. Joe Walsh, has called for Holder to step down. That would be nice, but I want him to be put on trial for these murders, for those in Mexico, and for the horrendous way this program was operated (not to mention that it existed at all).
With this new information, one can understand now why Secretary Napolitano is grilled by Congressman Chaffetz about this whole program: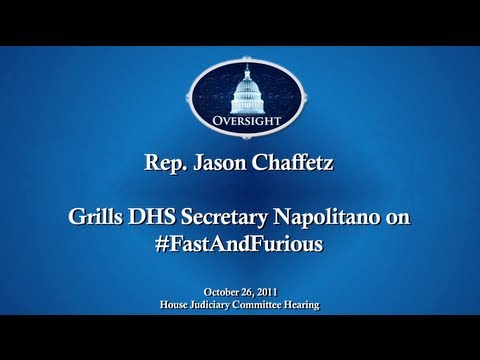 Good grief. I am just shaking my head in disgust at Napolitano's responses. Someone, anyone, PLEASE tell me how in the hell this woman is in this position?? "I do not know." "I do not know." "I do not know." How incompetent is this woman? Not only is she incompetent, but she seems to show little remorse for the outcome of this failed policy, insisting upon getting her two cents in when Rep. Chaffetz completes his questioning. Wow. No "I am sorry, I feel terrible, my heart goes out to all of the families, this was stupid as shit," or anything. Nope. Just more defensiveness from someone in Obama's Administration.
Holy crap. I have to say, I am thankful for Congresspeople like Rep. Chaffetz and Issa, as well as Senators Grassley and Cornyn, for pursuing the truth about this horrendous program, "Fast and Furious." May the truth prevail, and may justice roll down like water.
*UPDATE*: The calls for Holder to step down have increased to eight members of Congress.