I have been asked to post this clip with translation.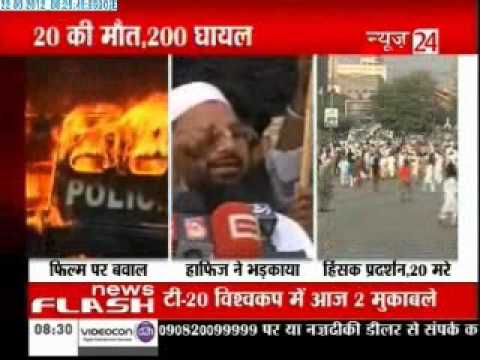 The news story above has been taken from an Indian news channel. I do not agree with the title of the video – 'Inciting Hafiz Saeed speech evokes violent protests in Pakistan'. The story also suggests that the violent protests broke out just because of the hate speech delivered by Hafiz Saeed. In fact, the violence was already in the offing when the likes of Hafiz Saeed used the opportunity to manipulate the situation. These protests, on the public holiday announced by the government, were going on throughout Pakistan because of the film. These violent protestors were very much "organized" as well.
You also have to understand that Hafiz Saeed is to Indians what Haqqani Network is to Americans. Saeed was the mastermind of the 2008 Mumbai attacks. Hence the Indians' desperate attempt to link the speech and violence. He's a wanted man yet roams free in Pakistan.
Here's what Hafiz Saeed of the Lashkar e Taiba is saying in the clip at 1:28.
"all agreements with the U.S. should be annulled immediately – until our demands are met pertaining to the respect for prophet (muhammad), – these criminals (film crew) are not prosecuted, – and the U.S. govt confesses its mistakes and apologize to the muslim umma".